Greencroft Goshen Stories
'I have had wonderful care from everyone'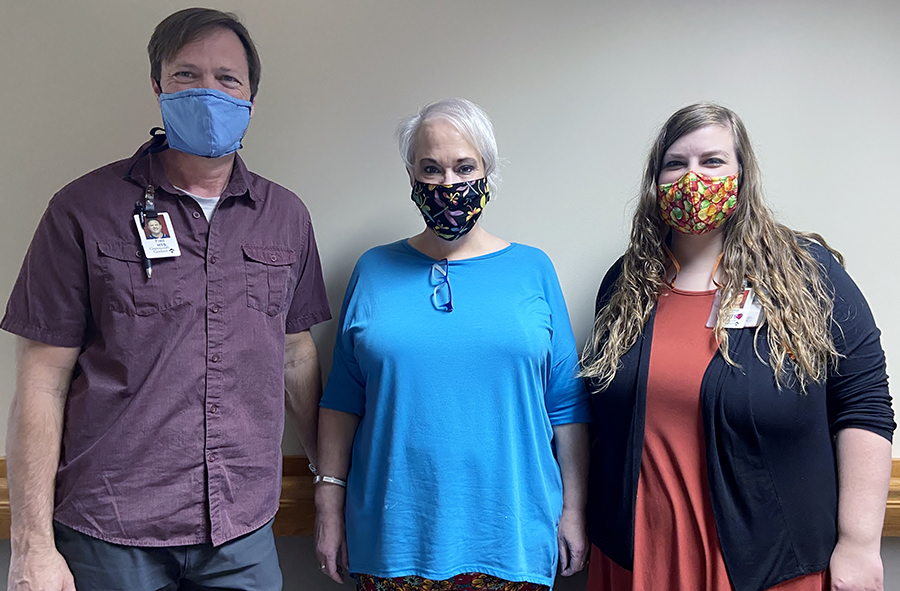 Pictured: Rebecca Burke with her therapists Fred Luster, PT and Krista Burkey, COTA
I suddenly became ill, and the illness affected my diabetes. My glucose was so elevated I was on the verge of a diabetic coma. I was intubated and on a respirator for five days. Upon being extubated, I had mild cognitive impairment along with extreme weakness. I could not stand myself up and the muscles in my arms and legs had deteriorated significantly. After being medically stable enough to discharge from the hospital I wanted to go home; however, the cold hard truth was I couldn't take care of myself, and I was a high risk for falling, getting hurt and ending up back in the hospital.
After the hospital, I came to Greencroft Goshen and have had wonderful care from everyone: Housekeeping, Kitchen Staff, Aides, Nurses, Therapists, Case Manager, and Activities (if I missed anyone I apologize). Therapy was a challenge at first, but along the way I was encouraged and praised. A lot of my recovery came from the encouragement I received as I wanted to please my therapists while taking pride in my own accomplishments. When not in therapy I faithfully did my exercises in my room, and I became stronger and more coordinated. The nurses were very helpful in helping me with my diabetes.
I was at 20% when I got here, and am pleased to say that I am leaving at 90%. I have the tools (provided by therapy) to get to 100% at home. My diabetes is at 100% improvement.
Greencroft Rehabilitation is #1, Everyone is very kind and compassionate and wants you to succeed.
More Stories