Greencroft Communities Stories
A Vibrant Community Can Enrich Your Life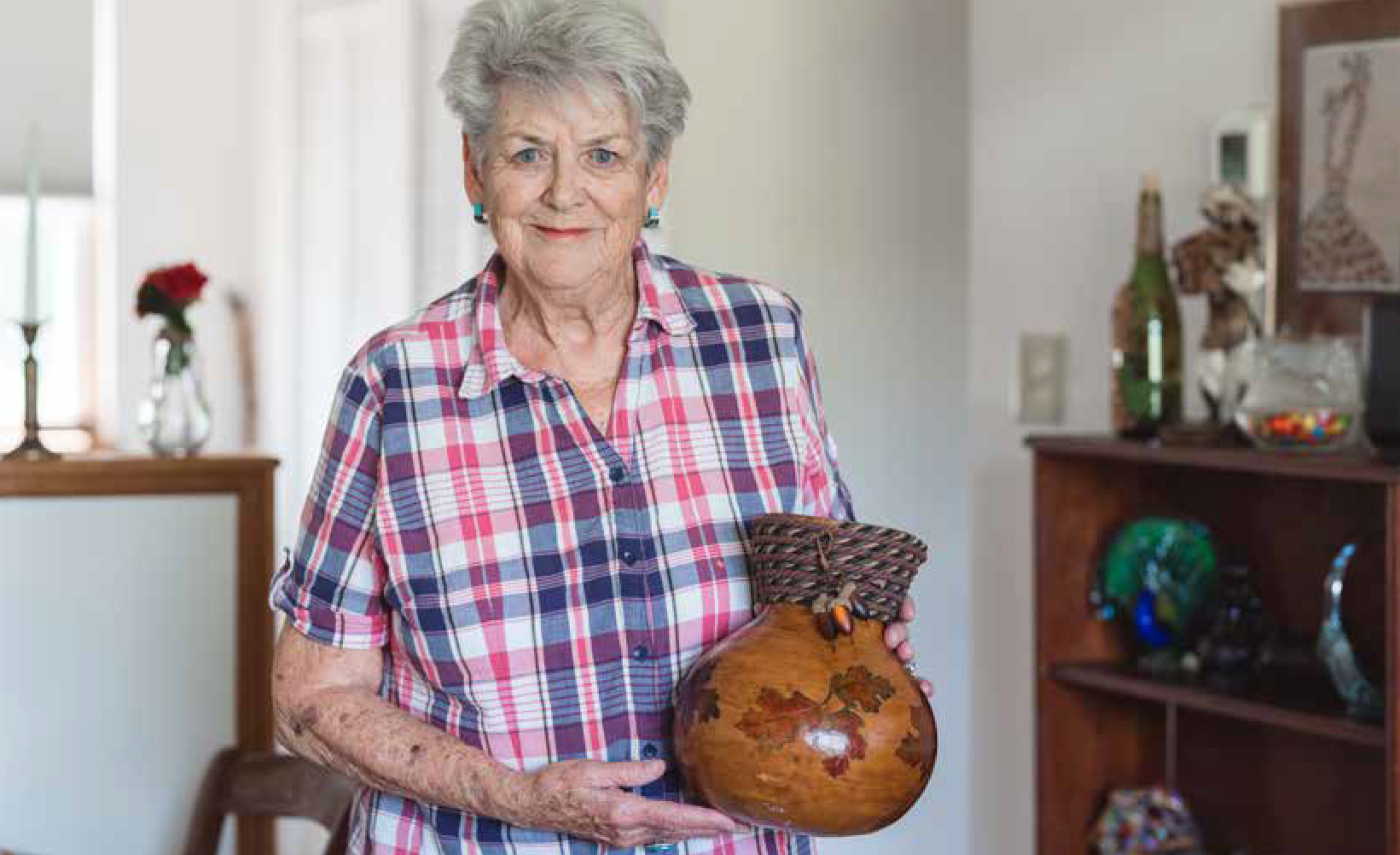 LaBerta Douglas, Independent Living resident at Hamilton Grove, has had a rich and interesting life! Her journey began with attending beauty school and becoming a hairdresser. She eventually owned her own salon, but her career path took a turn towards education and consulting in the same field. She became an educational consultant for a company that specializes in hair care products and in addition to her regular job duties, she was called in to test new products from all over the country. Being away from home was a fulfilling experience for her, as she got to see new cultures, meet new people, and try new things. Traveling also gave her a sense of independence and self-discovery. She loved this part of her job, but it was also difficult to be away from home so often.
Her career evolved to the point where she was able to do just about everything you can do in the beauty industry - she worked at a supply house, sold beauty products directly to hair dressers, and much more. Her favorite job, however, was providing hair services to the elderly in nursing homes. Although she also did men's hair, she found joy in shampooing, perming, and coloring the hair of the ladies.
"I remember it was challenging to use a wheelchair instead of a hydraulic chair," LaBerta said, "But there were always nurses aids to help. The best part was getting to know my clients and learning about their life stories, which could often be surprising and amazing." Unfortunately, sometimes their stories were only fully revealed after their passing, which made the experience even more meaningful to LaBerta. This is where it became apparent to her that the key to living a vibrant life is meeting and interacting with people who have different backgrounds than she did. This also translated to her unique journey into the world of Billiards pool.
Initially, LaBerta became interested in the sport because her then husband ran a pool franchise. She quickly mastered the rules and helped run an APA league, similar to bowling leagues, but for pool. The league was mainly played in bars with different types of tables, most commonly the 3x9 size. The best part about this time of her life was how many different types of people she got to meet.
"I'd meet doctors, lawyers, janitors - people from all walks of life, and a lot of young people who have just turned 21. The young people still have to learn what's expected of them, and it's great to see them learn the rules and improve and improve and improve until they are going to tournaments that are played internationally," LaBerta said.
"It's strictly the people that were the most rewarding part for me!"
Now, LaBerta's adventurous spirit has taken her to Hamilton Grove. Even though she just moved here in May of 2022, LaBerta is very familiar with the area having graduated from New Carlisle High School. Her mother also lived at Hamilton Grove for a time, across the street from where LaBerta lives now.
"I walked these grounds when I was a kid, and I feel like I am right back where I belong," She says. "I would advise anyone to come out here as it is fantastic living - the staff is wonderful, the community is vibrant, and the grounds are really beautiful, with lots of wildlife."
Creating art with gourds has become a passion for LaBerta, who enjoys painting them. After attending painting classes in Arizona during her beauty industry work, she has been trying to recreate that experience in her current location. To facilitate her art, she plans to organize her patio at Hamilton Grove where she can indulge in her creative work. She intends to share her art by giving pieces away to other residents in the community and also plans to try her hand at creating birdhouses.
Hamilton Grove is a place that holds a special place in LaBerta's heart, where she can fully immerse herself in the things she enjoys most. From engaging with others and sharing her own story to listening intently to the stories of those around her.
More Stories