Volunteers Make a Community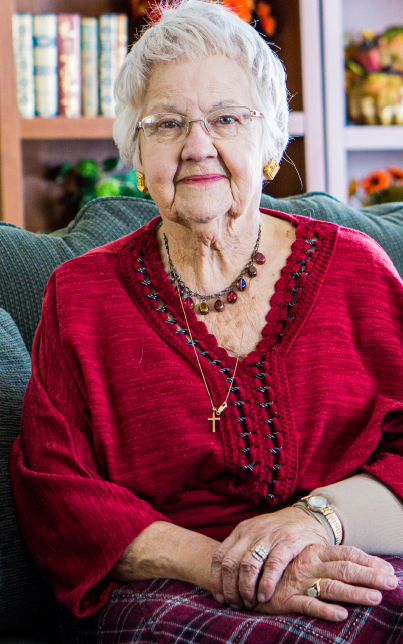 Rosealene "Rosie" Long is one of those people you instantly want to hug when you first meet her. Her character emmenates feelings of generosity, kindness, and sincerity. She loves to volunteer at her church, the Chamber of Commerce, and attending ADEC events to support her son. She was born and raised in Elkhart County, but once she moved to Middlebury with her husband she became immersed in the community, and has been here ever since. She always had plans to move into Greencroft Middlebury's residential program, and one of the reasons she wanted to stay here was because of how involved she was in the community and the schools throughout her life. She loves people, as well as just living and being busy.
Rosie says she can attribute a lot of her ideas and volunteer activities to her parents because they were that way, too. Her mother and father were very generous to people through the Depression. Because her parents were so giving of their time to others, Rosie has felt a pull in her own life to do the same. That's why she invests so much time into not only Greencroft, but her community. Rosie serves on the Greencroft Middlebury Board of Directors as a community representative and takes seriously her responsibility to her friends and neighbors to help the community move in the right direction.
"I love being with my community," she says," which is why I have given a lot of my time to educating those about Greencroft Middlebury." Rosie believes that the Middlebury campus needs additional levels of care and has been attending meetings to help that idea move forward.
"I like people, and having had a business in Goshen for 60 years I really became a community person. I like to volunteer my time to the community, because when you do that it enlarges the world for you. Greencroft is a very fine organization and I've been involved with them for a very long time because of my mother and my husband's parents. Without Greencroft, we would not have been able to stay in our community that we love so much and continue to be involved in it." Rosie loves keeping the community aspect of her life alive while here at Greencroft, and it's what she wants for her friends who need a higher level of care to be able to stay in Middlebury instead of moving to Greencroft Goshen or another community.
"Many of my friends have grown up in Middlebury their whole lives. They go to church here, their families and friends are here, everything they love and want to stay connected to is here. When they have to move to a different city for additional care, they lose that community, and it uproots their lives."
Rosie believes that if you want something, you have to work for it and dedicate a lot of time to it. In her purse, she carries a small post-it note with a short message on it, which she believes explains all of her choices when it comes to giving her time. It says:
Have courage for the great sorrows of life
And patience for the small ones.
And when you have finished your daily tasks
Go to sleep in peace
GOD is awake
"Greencroft is a very fine organization and I'm so happy to be able to be a part of it." Thank you for giving us so much of your time, Rosie! We love having you as an ambassador for Greencroft Middlebury.
More Stories