Walnut Hills Plays Role in Millersburg Man's Recovery
For most people, being able to complete a simple task like shuffling a deck of cards would be something we might take for granted. However, for Noah Raber of Millersburg, a recent round of playing cards with family and friends was cause for celebration.
Raber was unable to use his left hand for many months due to damage caused by a case of Covid and a stroke in late 2020. Recently, he was able to shuffle the cards for the game time, and Raber attributes much of his recovery to his weekly therapy sessions at Walnut Hills.
"It is amazing what I am able to do with my left arm and hand. My left arm was not functioning, and I could not flex my elbow," said Raber. "I would not be where I am today if I had not worked with the wonderful therapists at Walnut Hills."
Noah doesn't remember much from the time several months ago when he was very ill with Covid, but his wife, Gloria, has been by his side the entire time, and she marvels at how he recovered, also with the help of the team at Walnut Hills.
"Noah spent eight weeks on a ventilator in late 2020, and when he came to Walnut Hills for rehabilitation, he was not able to hold himself up sitting on the edge of the bed," said Gloria. "After three months of inpatient therapy at Walnut Hills, I took Noah home a walking man. It has been amazing what the Walnut Hills' team has done for him."
Noah's most recent victory has been a result of outpatient therapy at Walnut Hills. He and Gloria can plan therapy sessions based on their schedule, and while they are thankful for the expertise of the therapists, they especially appreciate the friendliness and respect shown by the entire team at Walnut Hills.
"The team is so committed and caring," said Gloria. "The therapists and support staff are always available and happy to answer questions, and we are always greeted with friendly smiles. They really are like family."
So much like family that the couple recently enjoyed celebrating Noah's 70th birthday at the Therapy Gym. The Walnut Hills team decorated the door to the gym with a balloon arch and supplied a delicious birthday cake for everyone to enjoy.
For more information on the inpatient rehabilitation program or outpatient therapy services at Walnut Hills, call 330-893-3200.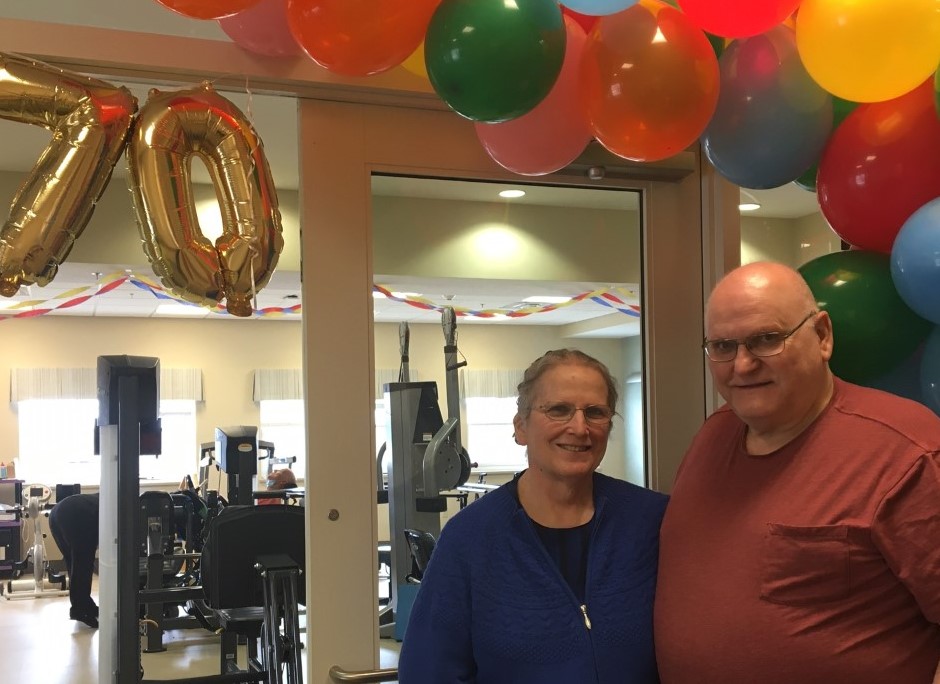 More Stories