Men's Group Filling needs at Walnut Hills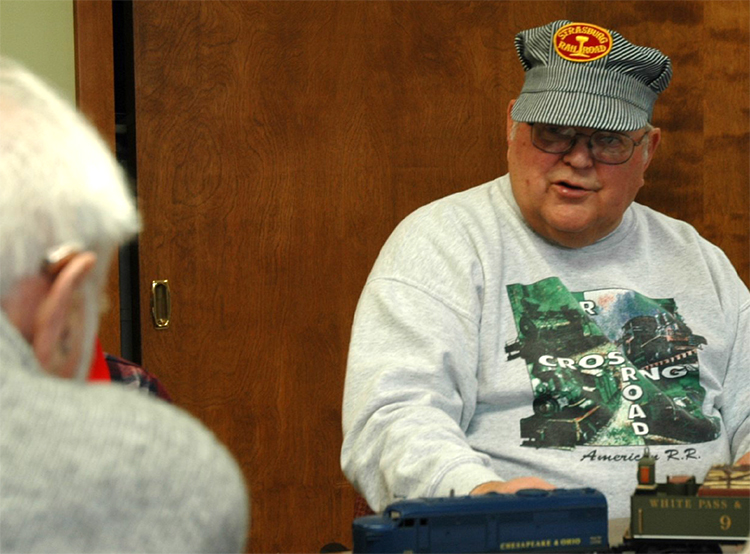 It's not unusual for male residents to be well outnumbered by female residents in a nursing home setting.
Nationwide, statistics show that 70 percent of all nursing home residents are women.
These numbers present a unique challenge for life enrichment and activities professionals in long-term care settings. Since the population is dominated by women, the majority of the activities are geared toward female residents.
At the Walnut Hills Nursing Home, Sharla Rider and Wanda Schrock, the Life Enrichment team, recognized the challenge as an opportunity to enhance programming, and they created a plan to schedule more activities to provide for the educational and social needs of male residents.
That's how the Walnut Hills Men's Group was formed.
"We wanted to ensure that our men are well cared for and feel they have a place to belong," said Rider, Life Enrichment Director. "We want to encourage hobbies and interests that are important to our men."
As the team discussed and developed ideas for programming for men, Rider was struck by how many talented men live on the Walnut Hills campus, so she started inviting some of them to come spend time with the men living at the nursing home.
One of the men who recently shared with Men's Group was Larry Westfall of The Meadows. He displayed several sizes of model trains and shared about his 40-year hobby with the group.
"I enjoy sharing about my passion," said Westfall. "This was a great opportunity to talk about trains and hear about memories that the residents have about trains."
Several other residents from Walnut Hills' independent living communities have shared at Men's Group, with topics ranging from nature and birds, woodworking, hunting and walking sticks to travels, trombone music, devotions, and antiques and art.
"We are so thankful for the Men's Group and the partnership that supports the belief that each individual is supported and valued," said Rider. "The men are building relationships and
More Stories