Southfield Village Stories
The Power of Purpose: Donna's Story
Southfield Village is home to some truly extraordinary women. These women may have retired from their long and successful careers, but they have not stopped making a difference in the lives of others. From volunteering in the local community to encouraging other residents on campus to stay engaged by giving out handmade gifts, these women are an inspiration to all who know them. Ninety four year old Donna Thornhill, an Assisted Living resident of Southfield Village since June of 2021, is one such extraordinary woman.
Donna found herself in quarantine shortly after moving in due to Covid restrictions. After experiencing multiple lockdowns, Donna and her care team realized isolation wasn't good for her mental health. She needed to stay busy and engaged. Despite the challenges, Donna persevered by always being willing to lend a hand where one was needed. Her dedication to completing anything that needed completing was unmatched. She would even punch out bulletin board letters for her care team, who would purchase them specifically for her to complete. She is just the kind of person who always needs to be doing something. Her dedication didn't stop there: she meticulously sorted and organized an entire file cabinet of past projects. In the healthcare setting, donations of yarn, ribbon, and cards are commonplace, and Donna took it upon herself to sort, organize, and label these items as well.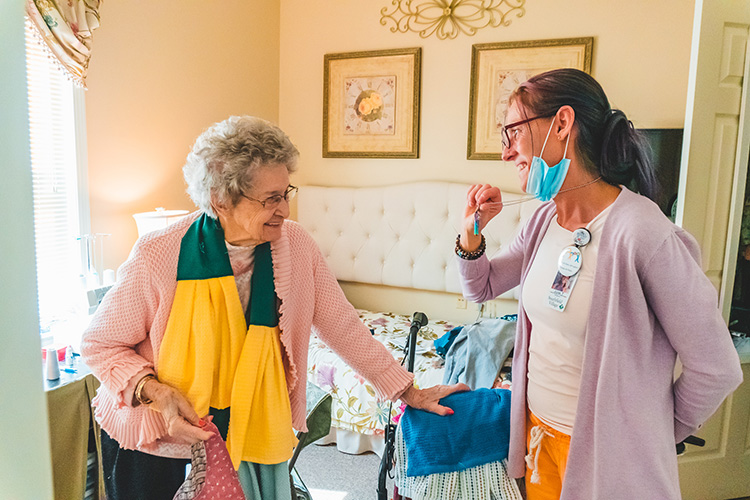 In April 2022, during another Covid isolation, one of Donna's care team members, Julie, came up with a solution to keep Donna occupied. Julie knew that Donna was a talented seamstress and suggested she use her skills to work on sewing projects. She decided to bring in her late grandfather's overalls and favorite ties as material for Donna to work with. He passed away in July 2018, which was Julie's greatest loss. He was her father figure and her best friend, and while these items held sentimental value for Julie, her biggest concern at that time was Donna's mental health and wellbeing. Julie shared some of her memories with Donna, and without any sort of plan, handed over the overalls and ties. Donna ended up designing and sewing three amazing overall bags with the ties added on as extra pockets. Both Julie and Donna were moved to tears by how perfect the bags turned out.
Since then, Donna has been using her seamstress skills to assist staff and residents at Southfield Village by hemming pants and repurposing fabric scraps into clothing protectors and pot holders, among other things. Her Assisted Living unit is equipped with a setup that allows her to sew to her heart's content.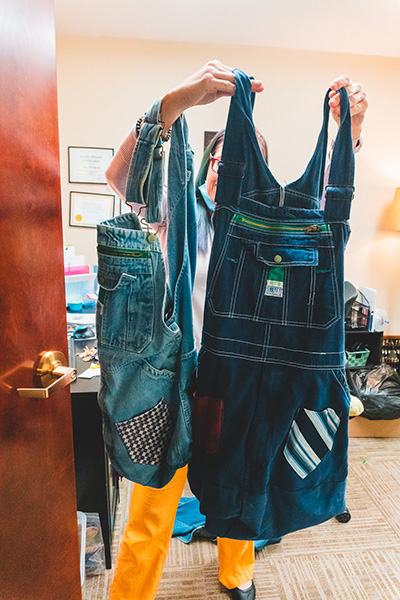 Julie's beloved cat, Princess Lily, passed away the day before Southfield Village held their 2022 Christmas party. This was a heavy blow to everyone who knew Julie, as she often brought Lily in to see the residents in a stroller equipped with Lily's favorite blanket. Being so close to Julie, the residents at Southfield Village could feel her pain after this difficult loss, and none more than Donna. While Julie was on leave to ease some of the heartache of losing Lily, Donna was hard at work sewing Lily's favorite blanket into two therapeutic rice bags for Julie. Therapeutic rice bags can be a helpful tool for coping with the pain of losing a pet as the warmth of the rice bag can provide comfort and relaxation, easing physical tension and promoting emotional healing. It was also therapeutic for Donna as it allowed her to focus her energy on a positive and creative project.
"This job can be so emotionally challenging at times, but also such a blessing, as now I have personal items to cherish forever from my loved ones - all because of Donna," said Julie.
Despite the fact that our staff members are there to care for them, the residents often go out of their way to provide comfort and support to those who are looking after them. This is a testament to the human spirit and the power of empathy and compassion, even in the most challenging of circumstances. Donna is an excellent example of this extraordinary human spirit. She now has many projects to work on from those all over Southfield Village.
To send fabric or sewing supplies to Donna and support the compassionate work she is doing, contact Pete Webb at Pete.Webb@greencroft.org.
More Stories