I give to the Levites all the tithes in Israel as their inheritance in return for the work they do while serving at the tent of meeting. Numbers 18:21 (NIV)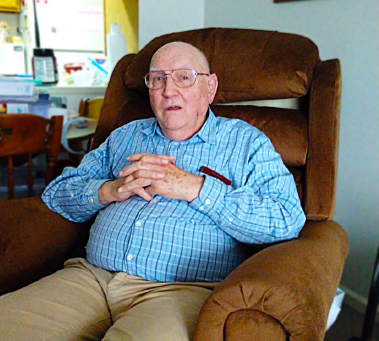 Lewis Schnabelrauch has lived at Great Lakes Christian Homes since 2014, but he remembers the groundbreaking for this community from more than three decades ago. Since then, he always knew that he wanted to live at Great Lakes.
As a young man, Lewis served in the army, working at a refueling base in Iceland for aircraft traveling from Gander, Newfoundland to Europe. He learned to work hard in harsh conditions, witnessed the extremes of long, temperate summer days and short, frigid winter nights.
When Lewis returned from service, he worked in factories, supporting his family through hard work. Having not grown up in a Christian home, it wasn't until age 35 that Lewis gave his life to the Lord through the witness of his co-workers at the Oldsmobile body assembly plant. He was especially keen for his wife and two children to become involved in church and learn about the Bible.
As a result of his faith commitment, Lewis became acquainted with the ministers who had the vision for a retirement community in Holt, Michigan. One of those ministers was Reverend Dan Johnson who is now the chaplain at Great Lakes.
The best thing about living at Great Lakes, says Lewis, is the people. He has plenty of opportunities to visit on campus and around town, but he also likes to spend time on his computer in his cozy apartment.
Lewis is a monthly donor to the Great Lakes Foundation and credits his study of the Bible and the witness of the church for learning how to be generous. He says the Bible instructs us to give to support the work of ministry. Since Lewis attends services on the Great Lakes campus rather than an outside congregation, he gives his tithe to the Foundation to support the work of Chaplain Dan and the ministry of Great Lakes.
We are grateful for Lewis and his willingness to live generously with his friends, family and neighbors.
To learn how to give to the affiliate where you or your loved one lives, contact the Greencroft Communities Foundation office at 574-537-4708 or visit https://www.greencroft.org/foundation/.
More Stories